Friday, July 30, 2004
Aqua Vitae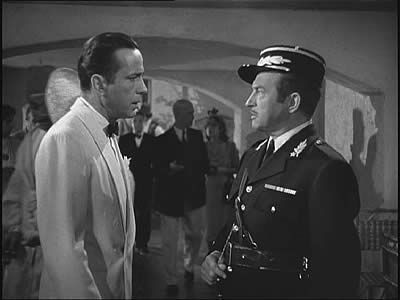 Today's Louis Renault "Shocked, Shocked!" Award goes to the European Union for their ahem,
chagrin
at the Arab states'
refusal
to support a resolution in the UN condemning anti-semitism.
I've been in a bit of a moral dilemma since the Europeans decided to launch the rhetorical cold war against The Good Guys in that some of my favorite adult beverages are from the weasel nations. I'm not the sort of person who takes to actions like washing my car with a claret to make a point (damage to the finish aside), but I'll admit to being very reluctant to part with some of my hard-earned cash if it's going into the coffers of France or Belgium. It's summertime, and it's beer season, and we have the rather unfortunate fact that Belgium, despite its loathsome moral character, is Disneyland for beer lovers. I suppose I could somewhat justify a Trappist or two, assuming that the profits do indeed go to the good friars and not some Belgian corporation or government (or even worse EU) function. However, knowing the European attitude toward religion, I'm sure that the good friars are probably taxed to support their overlords and their socialistic
weltanschung
. Then again, for fans of Trappist and Abbey-style beers, there are reasonable substitutes brewed in the US, including the truly great Ommegang (brewed in Cooperstown, NY), which is pretty darn close to Chimay red label (you
can
taste the difference, but then again, Chimay is the best beer in the world IMSHO). Canada's Unibroue does some awesome beers in the Belgian ale style, including Maudite and La Fin Du Monde, but the nonsense coming out of Ottawa and Quebec gives me that same moral dilemma.
Not that there aren't great beers coming out of some of the good guys, I once had an awesome Peroni dark beer (I don't know if it was top or bottom fermented) in the Italian restaurant in the Met Life (Pan Am) building. I've never seen it again, only the regular lager style. And there are plenty of excellent micro- and regional brews in other styles from the US, including Shiner Bock (I'm partial to dark beers and ales, as if this musing hasn't given you the clue) and Anchor Steam. Heck, they even serve Foster's in the bar cars on Metro North (one most civilized amenity that I hope doesn't go away; yes it's overpriced, but there's something to be said for enjoying an adult beverage while letting Manhattan recede away).
The big push for Esteemed New Client's first deliverable is over, and I can safely kick up my feet and go on vacation (I will be blogging during vacation, perhaps not every day, but there will be assorted
bon mots
from yours truly). The big fight was over whether we were giving them too much information in this deliverable, not knowing whether they'd take it as a cookbook and run with the information. There's a lot of stuff in there (and to be perfectly frank it's deadly dull reading with lots and lots of Incomprehensible Multi-Letter Acronyms).