Wednesday, April 06, 2005
Oh Goody. The Illudium Pu-36 Explosive Space Modulator.....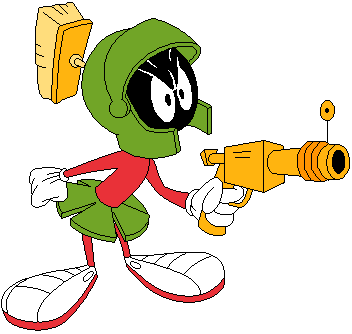 Courtesy of Broadband Reports, we report the following from Court Briefs:
A class action lawsuit claims that the Defendants are involved in installing "spyware" on millions of computers without the computer owners' consent, utilizing it to track the Internet browsing habits of the owners and then send them intrusive targeted "pop-up" ads. Plaintiff Stephen Sotelo, individually and on behalf of all persons similarly situated, sues Directrevenue, LLC, DirectRevenue Holdings, LLC, Betterinternet, LLC, Byron Udell & Associates, Inc., d/b/a Accuquote, aQuantive, Inc., and John Does 1-100.

The Complaint claims that the Defendants, who are allegedly either members or advertising supporters of the Internet "spyware" industry, have unlawfully used and damaged many individuals' computers to make money for themselves, while willfully disregarding the computer owners' rights to use and enjoy their personal property.

Defendant DirectRevenue allegedly deceptively downloaded "harmful and offensive" spyware to the Plaintiffs' computers which tracked their Internet use, invaded their privacy and damaged their computers. Relying on DirectRevenue's spyware as the key to getting inside Plaintiffs' computers and learning their Internet browsing habits, Defendants Aquantive and AccuQuote allegedly bombard the Plaintiffs' computers with intrusive advertisements. (...)

DirectRevenue allegedly engages in "uniformly deceptive misconduct" to secretly install its software onto consumers' computers. It allegedly bundles its spyware into other legitimate software which is available to be downloaded for "free" on the Internet, such as a video game. When the consumer installs that "free" game, he or she allegedly simultaneously (but unknowingly) downloads DirectRevenue spyware bundled into the game being downloaded, without consenting to the installation of that software.

The Defendant then allegedly bombard users' computers with ads that constantly "pop up" over whatever web page a user is viewing. The ads are allegedly sent in a manner that breaches the security of affected computers through bypassing commonly-used "pop-up" blocker software, designed to stop ads like those sent by the Defendants. The Complaint quotes an estimate by Newsweek magazine that DirectRevenue may have as many as 1.5 billion advertising impressions (i.e., pop-ups) per month. If a computer infected with the spyware is viewing music-related Internet sites, the spyware sends a signal of such activity back to DirectRevenue, which then allegedly targets the computer user with advertisements from competing music companies.

Some of these ads allegedly deceptively give the user the appearance that there is a "Security Alert" being sent by the user's computer itself or from Microsoft Windows, which states that "Spy Software may be installed in your Computer." DirectRevenue allegedly claims access to 12 million computers in the U.S.

The spyware allegedly destroys other software programs on a computer, and it and the ads send allegedly cause computers to slow down, take up bandwidth over an Internet connection, use up memory on a computer, utilize pixels and screen space on monitors, and frustrate computer users. The software and pop-up ads allegedly decrease productivity by requiring that hours be spent figuring out how to get them off of a computer, closing ads, and waiting for a slower machine to operate.

Class action status is sought on behalf of all persons or entities who had BetterInternet install spyware on their computers located in Illinois on or after April 1, 2002 and who had advertisements sent to their computers as a result. (...)
The complaint can be read in its entirety
here
.
As to whether this action will be effective, it's anyone's guess, but I assume that "BetterInternet" (a euphemism that ranks with the best of 'em) and DirectRevenue have shielded themselves from any US legal action, or are prepared to bug out if they are not. The only thing that will stop this sort of thing happening is meaningful penalties for the advertisers.