Friday, July 01, 2005
Gert Jonnys!
Someone brought up really bad band photos in a thread on one of my favorite forums, and hands-down, the winner was this bunch of wild and crazy guys from Sweden, the Gert Jonnys: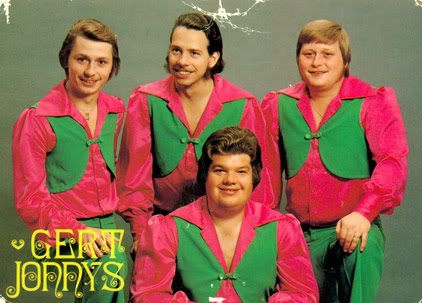 You really have to admire these characters for having the stones to actually be photographed in those Santa's Workshop Meets Bad Polka Band outfits, not to mention the seriously goofy looks, everyone looking in a different direction, and hair styles that have been condemned by Amnesty International and the Red Cross.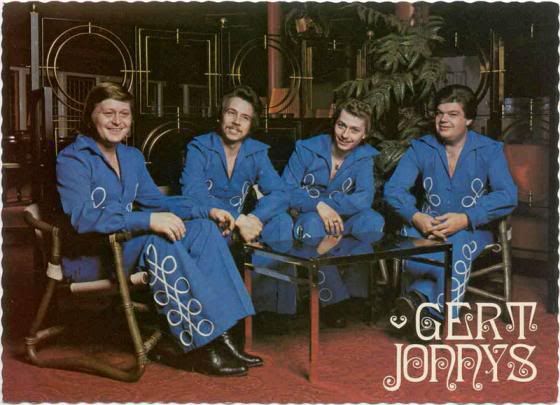 Here we see the band in one of its more conservative moments, however, we note again the photographer doesn't seem to know how to gain the attention of his subjects or there are some serious distractions in the room (if these guys have groupies......)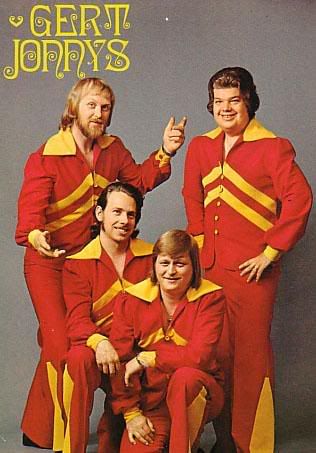 A final sartorial nightmare from the Gert Jonnys band. I couldn't resist and did a bit of research about this band, and other than the few other posts out there recognizing them for supreme achievement in the field of bad taste in apparel not to mention courage under fire, as near as I can dope out from the one article in Swedish that seems to recount their tale, they were a local dance music outfit in (as far as I can tell!) the Goteborg region who played occasional residencies in places like the Canary Islands. The leader was Gert Jonny Hansson, the husky fellow with the extremely bad pompadour. Apparently Hansson left the band in the early 80s (these photos date to the 70s, surprise, surprise) and the band is still playing together with a new
kappelmeister
named Freddy - they can be found and booked
here
. They've got some real toe-tappers on their various albums, I'm particularly fond of "Jag vill ge dig en dag" and"Jag vill ge dig min sång", along with their lively rendition of "Good Golly Miss Molly".
Still, someone's got to track down Gert Jonny Hansson. We've got to get these guys back together and in front of an audience - I'd actually pay good money to see that!
Cöme see the scenic mööse....